Studio Classes
I hold a weekly class at my Studio on Thursday mornings and afternoons and classes that are run on a day-a-month basis and day workshops. These monthly and 'one off' workshops suit students that have to fit in a hectic work and home schedule and allows time for 'homework' and/or research between classes. If classes are oversubscribed then additional classes can be scheduled for another time. The timetabling of classes also allows for individual/small group tuition. Please email me for more information about any of the above. My studio is located at WASPS, 2/3 West Park Place, Dalry, Edinburgh, EH11 2DP.
FORTHCOMING CLASSES
PATCHWORK PROJECTS
SPRING TERM 2018
Thursday mornings 10am -12.30pm. Dates are 11,18, 25 January, 8 February, 1,15, 29 March, 5,12, April, Cost £76.50
Thursday afternoons 2pm – 4.30pm. Dates are 11,18, 25 January, 8 February, 1,15,29 March, 5,12, April, Cost £76.50
Please phone me on 07773268135 or email me at info@patarchibald.com to check availability of places.
CREATIVE JOURNEY 2018
This course will start in January 2018 and run for five sessions. Over the five sessions we will look at various ways of creating design and pattern on fabric in a very practical way at the same time as relating the work to a theme (to be announced). I am taking names now for this course so do contact me if you are interested. Either phone me (07773 268135) or email me at info@patarchibald.com.
Dates for the forthcoming 2018 Friday Course are 19 January, 23 March, 27 April, 25 May, 15 June. 10.30 – 3.30 each day.
Cost £175
Dates for the forthcoming 2018 Saturday Course are . 20 January, 24 March, 28 April, 26 May, 16 June. 10.30 – 3.30 each day.
Cost £175
WEEK LONG CREATIVE JOURNEY COURSE 2018, 18 – 22 June
I am going to be teaching a Creative Journey course for keen beginners and those with some experience 18 – 22 June 2018 at my studio in Edinburgh. Changing the format slightly from the last few years we will look at all the elements of good design (colour, balance, composition and symbolism) whilst working on some basic exercises and then move onto designing a small piece that is meaningful to you. Each day I will highlight a design technique that I use in my own work and you are welcome to incorporate these ideas in your piece or do a small sample. This will be a week packed with ideas and inspiration. The cost for Monday – Friday (three full days of tuition and two half days) will be £300 and that will include lunch on the full teaching days, coffee, tea, biscuits.
Contact me by email, info@patarchibald.com if you are interested.
SPRING 2018 DAY WORKSHOPS
THE LIGHTS AND SHADES OF NATURE Wednesday 25 April 10am – 4pm £40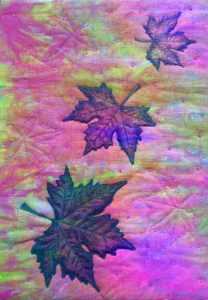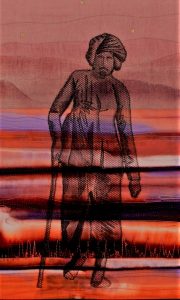 I use acrylic inks to create translucent figures in my work. (See image on the left). This gives a ghostly but atmospheric effect. In this workshop you will learn how obtain this effect by stitching leaf outlines in a variety of graded sizes. I will then teach you how to brush on acrylic ink to achieve the shadows. More depth is achieved by layering and stitching nets over the leaf shapes. No artistic ability is required. Students should have basic sewing machine skills. A Requirements List will be supplied on registration. Students will be very close to having a completed item at the end of the workshop.
.