UPCOMING EVENT
PACIFIC INTERNATIONAL QUILT FESTIVAL, 11-14 OCTOBER 2018, SANTA CLARA,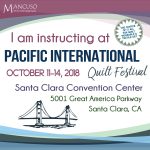 CALIFORNIA.
I will be teaching at this event for the first time. More information can be found at https://www.quiltfest.com/upcoming-shows-and-events/pacific-international-quilt-festival/
STITCHTOPIA HOLIDAY IN VIETNAM 2018
TEXTURES OF VIETNAM
30 October – 14 November 2018
Join me on a fabulous tour of Vietnam visiting Hanoi, Mai Chau, Sapa, Hoi An and Ho Chi Min and enjoy a cruise in Halong Bay. The tour is steeped in textiles and cultural visits and will be the trip of a lifetime.
http://www.arenatravel.com/our-holidays/stitchtopia/textures-of-vietnam-2018
THE ROCKY MOUNTAINEER AND CALGARY FESTIVAL OF QUILTS HOLIDAY
18 May – 28 May 2019
Join me on this exciting tour to Canada! It's the perfect opportunity to combine a magical journey aboard the legendary Rocky Mountaineer, and indulge your stitching passions with two full days of workshops in Anne Dale's 'My Sewing Room' and a truly memorable visit to Calgary's wonderful Festival of Quilts.
http://www.arenatravel.com/our-holidays/stitchtopia/rocky-mountaineer-calgary-festival-of-quilts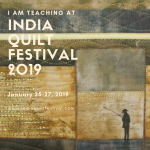 INDIAN QUILT FESTIVAL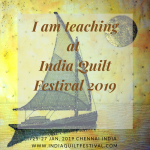 25-27 January 2019
I am absolutely thrilled to be invited to teach at India's first International Quilt Festival in Chennai. More information can be found at http://www.indiaquiltfestival.com.
WEEK LONG CREATIVE JOURNEY SUMMER SCHOOL IN EDINBURGH
24 – 28 June 2019
I am going to be teaching a Creative Journey course for keen beginners and those with some experience 24 – 28 June 2019 at my studio in Edinburgh. Every year I change the format slightly from the previous year and we will look at all the elements of good design from a different angle (colour, balance, composition and symbolism) whilst working on some basic exercises and then move onto designing a small piece that is meaningful to you. Each day I will highlight a design technique that I use in my own work and you are welcome to incorporate these ideas in your piece or do a small sample. This will be a week packed with ideas and inspiration.
The cost for Monday – Friday (three full days of tuition and two half days) will be £325 and that will include lunch on the full teaching days, coffee, tea, biscuits.
Contact me by email, info@patarchibald.com if you are interested.
ADDITIONAL WEEK LONG CREATIVE JOURNEY SUMMER SCHOOL IN EDINBURGH
1-5 July 2019
Information as above.