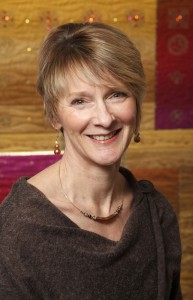 About Me
As with most quilters my fascination for fabric started at an early age playing with my grandmother's scrap bag. Although she herself wasn't a dressmaker she had a wonderful collection of exotic fabrics from the clothes that she had made for her in the 1920s and 30s. The velvets and satins and laces were wonderfully tactile to a small child and I am sure she had endless hours of peace and quiet when the scrap bag was produced! My mother, however, was a prolific dressmaker and so the house was full of colourful cottons and my first piece of patchwork was made at age 11!
Over the years when my own children were young I produced various small quilts and for a short time ran a small business designing and making children's appliquéd garments. Then in 1990 an opportunity arose to take part in the first City and Guilds Patchwork and Quilting course in Scotland. Naturally I jumped at the chance and become enthralled with the endless possibilities of working with colour and fabric.
Until then I had been working as an occupational therapist but the pull of a more creative career was getting harder to resist. So, when a friend asked if I would go into business with her and establish Scotland's first dedicated patchwork and quilting shop there was no hesitation in saying yes! And so began ten very exciting years with the shop Purely Patchwork in Linlithgow, Scotland.
The shop soon established itself as a leader in terms of the variety of fabrics available and the standard and quality of the classes taught. It attracted custom from all over the UK and further afield and tutors visited from around the globe to impart their knowledge and skills to enthusiastic students.
After ten years of running the business it was time for another change of direction to allow me to spend more time developing my own work and teaching specialist classes. 2004 become a very challenging and rewarding time in terms of establishing a studio in Central Scotland. Commissions were awarded to me for public buildings and private and public collections. This is an aspect of my work that I find very exciting and rewarding. A studio move in 2009 to a lovely light and sunny space in an arts complex in Edinburgh city centre brought another focus to my work. The "Creative Journey" courses that I had been teaching in Central Scotland became established again. These courses encourage students to step out of their comfort zone in order to explore the design elements to produce unique and individual pieces of work. Now that the teaching is established we have been given an opportunity for my students and I to exhibit annually on the Fringe of The Edinburgh International Festival.
So the journey continues physically as well as metaphorically. I love to travel both around my home country as well as further afield. As my own horizons grow literally, then so too do the experiences that I can then express in my quilt making. I feel that each collection of quilts has its own unique identity and captures the essence of my view of the country or city.
My work is now widely exhibited both in the UK, Europe and in the USA and has brought me some wonderful awards.